After two long years it is finally happening:  For the month of June, my new series "Kaleidoscope of Hope" will finally be in the exhibition "Kunst trifft Wave Gotik" at Beuteltier Art Gallery.
This new series was inspired by recent events – the turning point of history that we are all experiencing. The way we survive the blackout of the first shock and keep looking for the light in the dark. Hoping for things to get better over and over again, wishing for a new and improved future. Colorful, ornamental forms unfold on large, black backgrounds, radiating harmony and calm in their symmetry. Shapes of blossoms and elements of the animal world form a consistent concept. Like a light at the end of the tunnel, the future unfolds here in the dark. And as diverse as such visions can be, so is the shape of the light. This new series is a kaleidoscope of variations on a theme: hope.
The works of two more artists will be shown: Susan Illingworth from Melbourne, Australia, and Holger Much from Albstadt.
The "Hope" – artworks are only available at the exhibition and the online shop of the gallery.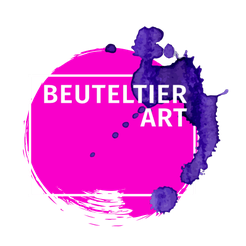 Öffnungszeiten/Opening times during Pentecoast/WGT 2022
3.6. Friday 13 – 18:00 Uhr
4.6. Saturday 13 – 18:00 Uhr
5.6. Sunday 13 – 18:00 Uhr
6.6. Monday 13 – 16:00 Uhr
Links